GOVERNMENT, POLITICS & THE LAW


Scroll Down To See The Skinny On This Week's Politics
---
HERE IS THE VEGAS WATCHDOG'S PICK
FOR THE BEST POLITICAL EVENT OF 2005
---
MAYOR GOODMAN LIGHTS THE TREE!
*THIS TUESDAY!*
ON FREMONT STREET!
---
---
---
THE SHOW MUST GO ON. DESPITE NATIONAL NEWS MEDIA QUESTIONING SOME OF OUR ILLUSTRIOUS MAYOR'S RECENT COMMENTS ABOUT THE SPRAY PAINT ARTISTS MESSING UP OUR VEGAS LANDSCAPE, HE WILL OFFICIALLY START THE 2005 DOWNTOWN HOLIDAY KICKOFF AT 6:00 PM DECEMBER 6 BY TURNING ON THE CHRISTMAS TREE LIGHTS! THE VEGAS WATCHDOG DAILY NEWS APPLAUDS HIS HONOR, MAYOR OSCAR GOODMAN, FOR STANDING UP FOR WHAT HE BELIEVES WILL BE IN THE BEST INTEREST OF THOSE OF US WHO LIVE IN THE LAS VEGAS VALLEY AND DOING IT IN HIS OWN SPECIAL WAY!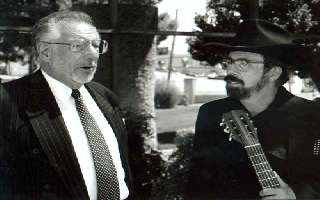 SPOTLIGHT ON
THE VEGAS WATCHDOG HALL OF FAME AWARD-WINNING MAYOR
GET READY FOR "W . W . O . S. N. ?"
What Will Oscar Say Next ?
"VEGAS TOP DOG & VEGAS WATCHDOG"

Up at the top of this section you can see His Honor, the Mayor of Las Vegas, being interviewed by the Vegas Watchdog Daily News Editor, Wild Bill Cooksey, at Channel 8 during a special segment filmed by the New York VH1-TV Crew to let the world know that Las Vegas is the Greatest City on the Planet! The Mayor Has Enjoyed A Fantastic Career As The Top Attorney Of The City And As A Well-Recognized Actor In Movies And Television. His General Public Quotes Are Profound And Yet Show He Is Not Afraid To Speak His Mind, No Matter What Anyone Else Thinks!
Those recent quotes about how he would handle the spray paint taggers who ruin the landscape of our fair city aroused the national media. Yes, it may be a bit radical to offer the punishment of removing the thumb of those who are caught doing the dirty deed. But nothing that has been done in the past seems to have any effect on these so-called artists deciding to find an alternative canvas for their talents. At least Oscar was able to get the national attention and maybe a few other shady types will think twice before moving here to try and conduct more scams and criminal behavior. I mean, if payback for an inconsiderate artist is to leave him with nine fingers, maybe other criminals headed this way will wonder what ole Oscar would recommend for bank robbery or scamming a senior citizen. Even the johns who readily come here to solicit favors from working girls right out on the street should consider what kind of penalty The Mayor's creative mind might think appropriate for breaking the law in that manner. But we better not go there at this time.
There is no question that in all of the 100 years of Las Vegas' Glowing History there has never been a Mayor as exciting and productive as Oscar Goodman. Let's hope that the city council votes in a new ruling to allow the same person to run for Mayor without any time limits. Bravo, King Oscar!
Cooksey, Himself, First Appeared In Las Vegas In 1968 On The Stage Of The Fremont Hotel And Went On To Have A Colorful Career In Entertainment, Broadcasting, Journalism And Education. Throughout Each Issue Of The Vegas Watchdog Daily News, You Are Bound To Catch A Few Scenes From Wild Bill's Illustrious Background. But Now He Has Saved The Most Fun For His Next Project...Telling The World About His Favorite City And Putting On A New Hat As Publisher And Senior Editor Of THE VEGAS WATCHDOG DAILY NEWS.
Be sure not to miss The VWD Exclusive On:
THE DEUCE MAY BE IN A "LOOSE-NOOSE" IN VEGAS
---
---
U.S. & World News from Send2Press Newswire


---