Welcome To
MediaVegas.INFO

Everything You Wanted To Know About The Media In Vegas

Plus, Lots About The Media They Didn't Want You To Know!

Who is the best news anchor?

Which TV Station has the most commercials during the news broadcast?

Is All the real news being reported? Or do the stations and newpapers play games by skipping over real news about those who purchase advertising?

Which one of the TV stations has the happiest reporters?

These and many more questions will be posed and answered at


Do You Have A Juicy "Secret Story About One Of The Staff Members Of A Media Outlet In Vegas?
Email Us at usamediaconsultants@hotmail.com because we are not shy about telling the truth

---
If you just cannot wait to find out all the good stuff that happens behind the cameras in Vegas, then email us at usamediaconsultants@hotmail.com TODAY and ask for your FREE Current Email Newsletter about MEDIA VEGAS . INFO
(Hint: How truthful is the Promo Campaign, "Weather First"?
What kind of trouble is brewing at one TV Station who recently changed their news lineup
to include two minority staff members in new positions of authority? Mmmmm...very interesting!
Why did one TV station in Vegas use a three year old crime report in the presentation of what was supposed to be the public's most up to date criminal activity going on in selected communities around the Valley? Can you believe all you hear on the news or is it clouded with sponsors being protected by the news directors?

Are The Local Newspapers Up To Date On Their Listings Of All The Shows Playing In Vegas?
Which Vegas TV Station Secretly Had Each On Camera Reporter And Anchor Evaluated For Effectiveness And Fired The One Represented In This Color Graph And Chart Below? I'll Bet You Didn't Hear About That On The News. Neither Did The Station Employee Who Never Understood Why Management Would Let Someone So Well Liked Be Put Out To Pasture!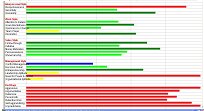 Vegas Is One Tough Market For All Those In The News Business! The Ax Falls Quickly And Without Mercy!

This and more is in our most current free Media Vegas Email Newsletter! Somebody's got to blow the whistle because you sure are not going to hear the whole story on Vegas TV or even in Vegas print resources. You Deserve To Know The Truth!!!
The MEDIA VEGAS Newsletter Is So HOT And Up To Date That We Could Never Keep This Page Updated Quickly Enough Because In VEGAS Everything Can Change In One Second! We'll Be Right There On Top Of It To Grab The News And Fire It Off To You In A Special MEDIA VEGAS FLASH Delivery Email.
To Be A Part Of Knowing What Is REALLY Going On, You Have To Email Us ASAP And Request Your Free Copy Of The Most Current MEDIA VEGAS Newsletter....NOW...HURRY...Things Are Happening Even As You Read This!