---
---
Objectivity is the sign of a serious profiler who is true to his or her passion for performing his or her special talents and gifts. One must put aside any and all personal feelings in order to assess the information that is revealed scientifically and statistically from professionally observing the person being profiled. The following comments are made entirely by this profiler's own professional opinions of the characteristics and traits that are displayed on the person being profiled and are not intended to sway to reader in any way at all to like or dislike the subject of this report.
---
PRESIDENT GEORGE W. BUSH
The next time you see The President on TV or look at his picture in a newspaper, double check the following observations about his facial features: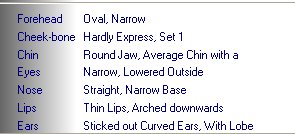 The following graphic which is prepared by comparing the characteristics and traits shown in The President's facial features with the famous Myers-Briggs Personality Assessment Program. You will have to agree that President Bush has certainly shown a strong ability in office always to be able to invent and re-invent himself in order to stay on top of events that effect his popularity. Just when you think he has lost the race, George Bush amazingly comes back strong with a new "invention". And, since his second strongest ranking was for an architect, keep in mind that "The President" is the one who put that label of praise with "that word" on Karl Rove, his chief advisor and ringmaster of his campaigns.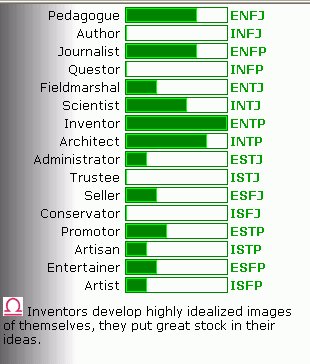 Now let's take a look at how President Bush's facial features translate into the basic four types of personalities specifically centered on extrovert and introvert tendencies. Compare the brightness of each color in the horizonal bars to the location of the same color inside the revealing extrovert and introvert circle on top. When one studies this closely, the entire personality puzzle comes together with accurate information that can be applied clearly to the major world events that have happened during President Bush's watch.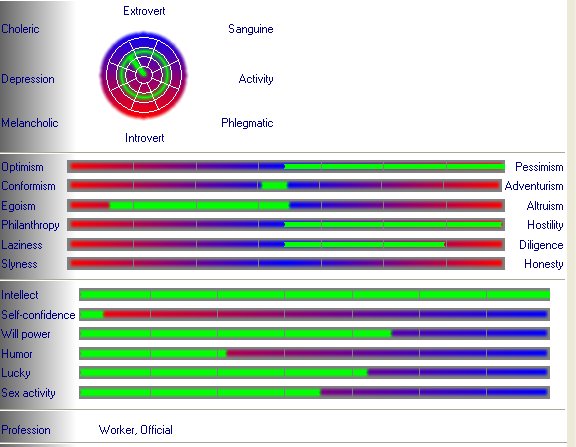 Below are notes and written highlights of what this profiler has gleaned from an indepth study of President George W. Bush's facial features. However, this specific report is very limited and has not yet been placed under the statistical microscope of the original 300+ Cooksey 2006 "Visagenetics ID Codes" as explained in Cooksey's upcoming book, "Who You Really Are Is Written All Over Your Face", to be released on Valentine's Day, 2006. However, the graphics on this page reveal a wealth of knowledge that can clearly be seen by any student of physiognomy. Go back to the top of this page and make notes of your observations as they relate to the different situations President Bush has been confronted with since he took office in his first term. Yes, his face really is an open book of what he has been thinking all of his life. May God bless our President and May God bless America with strong leaders who display the gift of wisdom.

IN AN EFFORT TO SHOW YOU HOW A PROFESSIONAL PROFILER WORKS, I AM GOING TO JUST INCLUDE MY ROUGH NOTES BELOW. FROM THE NOTES, I THEN GENERALLY EVALUATE ALL OF THE AVAILABLE DATA ONE LAST TIME BEFORE COMPOSING THE FINAL REPORT. THE NOTES BELOW WILL SHOW PHRASES THAT CAME QUICKLY AS I SPOTTED DIFFERENT FEATURES THAT STOOD OUT ABOVE OTHERS. THE SECRET TO BEING A GOOD PROFILER IS TO BE WILLING TO GO BACK OVER AND OVER THE DATA TO MAKE SURE THAT WHAT IS PRESENTED IS OBJECTIVE AND AS ACCURATE ACCORDING TO THE DATA FINDINGS AS POSSIBLE.

THE VEGAS PROFILER NOTES ON GEORGE BUSH'S FACE

Extrovert
Easily makes new contacts
Can also be impulsive
Around others he usually makes a good impression
Some shyness and tendency for suspiciousness possible
Not uncommon to have poor vigor and a lack of energy
Fights not being pessimistic in relation to life
At times feels doomed, dissatisfied and lonely
Has balance between conformity, modesty and judiciousness
Disciplines self to order and accuracy
Strong Ego and at times with low aesthetic concerns
Often has difficulty making external contacts
May seem cold to people at times
Circumstances may bring out a roughness, impudence and suspiciousness, even some display of envy
Very good functionality
Dilligence allows achieving successes in new ventures
Fairness rules, but sometimes slyness is revealed
Executes his promises
Not capable of betrayal
Good intuition and analytical thinking
Attitude by itself is an exclusive creation
Does not focus on another's negative qualities
Some signs of lack of will and patience possible
Can be undemanding to himself and others
Seldom is he able to freely joke around others
Quickly replaces periods of failures and penalties with the news of victories