The Vegas Watchdog News Service Is Also Featured
On NowPublic.com, Chosen By Time Magazine As One Of The 50 Most Influential Websites On The Entire Internet!
Click Here To View The Latest VEGASWATCHDOG.COM Stories On NowPublic.com.
---
MARIE OSMOND: Book Signing Event At Vegas WalMart
"A little bit country?" "A little bit rock and roll?"
Nope. Neither of those trademark lines heard by millions of Donnie and Marie fans from their TV variety show describes Ms. Osmond's recent appearance at a "meet and greet" book signing in Vegas. Marie's overall look was a cross between a 60s teen Disney star ala Frankie Avalon girlfriend and a glamour model at a Hollywood shoot. You better add just a pinch of Hannah Montana cuteness to get the whole image. The good news is probably no one could pull this off better than the one and only Marie Osmond.
ABC's "Dancing With The Stars" reconnected America's love reunion with the Teen Queen who came into homes each week many years ago on the tube alongside her Teen Idol brother. When she collapsed in the arms of her dancing partner while facing the judges, she secured a place in the hearts of fans that will endure until she decides to retire those "Paper Roses" she sang about in her hit records.
Fast forward to 2009: Ms. Osmond and brother are bigger than life stars again with their faces on the Las Vegas Strip covering the entire side of the Flamingo Hotel directly across from Caesars Palace. If you were walking down the Strip sidewalk late at night after a bit of too much partying, you might look up and think you were in a scene from " The Amazing Colossal Osmonds" movie.

Click Here To See Videos of this Event and To Read The Rest of the VEGASWATCHDOG.COM exclusive story.
WHEN SOMETHING "B.I.G."HAPPENS IN VEGAS
THE VEGASWATCHDOG WILL BE THERE FOR YOU!!!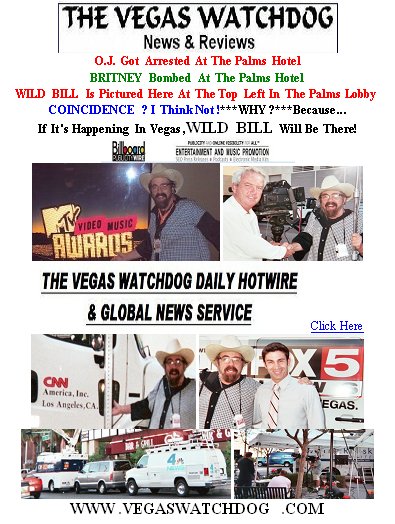 VegasWatchDog.com
National Association Of Broadcasters
Bring "IMAGINation" To Vegas
Las Vegas, NV....
The next generation of media technology has literally brought their whole "Dog and Pony Show" to the only City on the Planet able to showcase a worldwide community of professionals who can show the latest in industry products and services for the future.
The NAB Show theme this year centers around "Imagining The Opportunity". Thus the unique Logo "IMAGINation" says it all.
The global marketplace of over 1,500 companies and thousands of new products are presented to 100,000 plus attending this annual gala in Vegas this week.

Click Here To See Videos of this Event and To Read The Rest of the VEGASWATCHDOG.COM exclusive story.

---

"Special Edition"
---
Las Vegas' #1 "SIGNATURE ANALYST"
THE BEST SHOW-STOPPER ACT IN VEGAS
FOR ALL TRADE SHOWS, CONVENTIONS & SPECIAL EVENTS
Email vegaswatchdog@yahoo.com
CREATOR OF THE MOST VIEWED PRO GRAPHOLOGY REPORTS ON "YOU TUBE" IN 2007
Click On The Video Below To See THE SIGNATURE ANALYST In Action

Clients Have Included Cisco Systems,___ Alverson-Taylor Law Firm___ Lionel, Sawyer & Collins Law Firm
Click On The Above Video To See More Of
The "SIGNATURE ANALYST" In Action
# 1.Write Your Signature, # 2.Print Your Name
& # 3.Prepare To Be Amazed!
Reserve Your Date And Time For Your SPECIAL EVENT
By Emailing vegaswatchdog@yahoo.com or Call JV at 727-541-1343 !
---
---

THE STIMULUS BILL WAS A DONE DEAL
It Was Signed, Sealed And Delivered By
BARACK OBAMA: NOW The Most Important SIGNATURE In The World Today!
Now that President Obama has officially taken office, America is ready to see much change take place ASAP. In fact, during the last two months we have heard from the Obama team that everything will begin on his first day at his new job. And what will seal the deal on all the new changes? The signature of our 44th President of The United States Of America! Americans voted in November to place Barack Obama as CEO of the business of our nation. When a candidate is selected for that high a position, companies and stockholders like to learn as much as possible about their new Chief. One of the best, proven ways to see an overview of the personality and tendencies of our new President is to study the detailed report of what is to become the most important signature in the world today! Just go to http://www.HandWritingUSA.com , scroll down the page and click on the OBAMA link. You will be quite surprised and amazed at some of the special qualities our new President displays through the information provided in his signature. Remember, these are the natural tendencies he has that are revealed. Under stressful or joyful circumstances he may react or respond in a different manner. However, most people maintain 80% of their natural tendencies in all their day to day activities. As a professional graphologist who has had the honor of private study with some of the most gifted analysts in the world via the internet, I have had the pleasure of working with corporate leaders, law enforcement agencies and attorneys in providing special information that was used in final important decisions. I am always happy when I find out that my reports were helpful in the process of solving problems or in reaching a positive conclusion. Here in Vegas much of my graphology talent is displayed in an entertainment format at trade show booths and conventions as people are interested and amused that I could point out so much from just a signature. I ask all the guests to just sign their name in cursive, print the name represented in the signature and prepare to be amazed at what I can learn about who they are and what makes them tick. Yes, I always desire more writing samples to make a better analysis. But when I only have five or ten minutes with a person, the signature is just fine for starters. As you will see in our new President's full signature analysis report at handwritingusa.com, Barack Obama is indeed a man of depth that covers all the bases before showing the cards he is holding. In Vegas the President might even have the talent to play roulette and cover the red, black and "green" if that was what it would take to win. And trust this analyst....President Obama entered the election arena determined to win no matter what. And win he did! How did I know he was that determined? I could tell within the first 90 seconds after I first saw his signature that he would definitely be the 44th President of the United States of America.
---
STEVE WYNN OPENS
THE ENCORE LAS VEGAS

---



As I braved the opening night in the cold air with thousands of others on the Las Vegas Strip, I was able to feel the excitment of all those like me who were anxious to see Steve Wynn's newest addition to the Vegas landscape. Since Wynn was the force behind the Bellagio, Treasure Island, Mirage and of course, The Wynn Las Vegas, all expected something first class....and those of us who viewed the opening night saw just that. The videos that will be included with this story will verify that Wynn has raised the bar for other properties on the Strip.
For Dozens More Videos Of That Opening Night CLICK HERE
---
---
WILD BILL JOINS THE FAMILY OF SUPERSTAR ARTISTS
WHO RECORD AT DIGITAL INSIGHT STUDIOS IN LAS VEGAS
"Special Thanks To ROB, My Main Man, For Making It Happen"


This is the same studio used by BB King, Faith Hill, Gladys Knight, Kenny Chesney, Celine Dion, Tim McGraw, Ricky Martin, Christina Aquilera, Luther Vandross, Randy Travis, Nelly Furtado, Ludacris, Blue Man Group, Clint Black, Waylon Jennings, Britney Spears, Huey Lewis, and others
IT'S HAPPENING IN VEGAS!!!!!!
WILD BILL'S NEW SONG
"SPREAD THE WEALTH" IS HELPING THE PRESIDENT!
Here is the Wild One Recording At
DIGITAL INSIGHT STUDIO IN VEGAS
You Just Never Know Who Is Going To Be There!
"OH...Hi, Britney..Would You Mind Singing Harmony With Me On My New Song?"

Click Here For VEGASWATCHDOG.COM Section 4